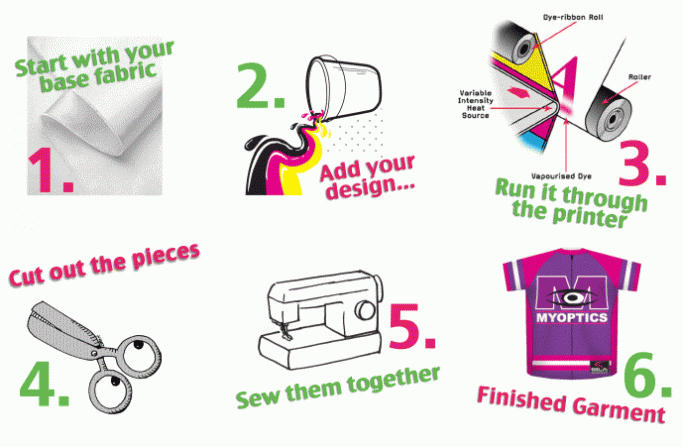 Platform Sports: The Sublimation Process
Long past are the times when we had our shirts printed with our favourite designs, just to see the ink peel off in a few weeks. Uniforms and accessories would look great only for a few days and then the painting would start fading and cracking until the design was nigh unrecognizable. Now, that´s a thing of the past.
At this time, textile printing allows us to actually dye synthetic fibres in a matter of minutes and greater colour fastness. The Sublimation process has existed now for a long time but only recently has it become affordable enough to be used by almost everyone.
The sublimation allows an infinite combination of colours and great sharpness of image. Meaning that you now can print anything on almost any synthetic fabric without fear. Your logos will always look great and the colours of your company will always stand out. You just need to submit your company colours and logos, using the pantone code, and you will get exactly what you want.
Our expert designers will do the necessary adjustments to guarantee your design fits perfectly on the shirt panels. The process takes as long as it takes to make sure the customer is completely satisfied with the final design. Then, they proceed to print the design on a transfer paper. We use a special heat sensitive ink that allows a seamless transfer from what is printed on the paper directly onto the fabric.
A heat press is used at the end of the process. We put both the piece of fabric and the transfer paper inside the press, adjust the temperature and duration, and the ink does the rest. The solid ink on the paper transits from its solid state to a gaseous form without going through a liquid state, that´s why it is called sublimation. This allows the ink to penetrate the fibres, instead of just covering the fabric. The final product has more vivid colours which are also more durable as they have greater fastness.
When using this technique, one must be aware of the different effects of temperature on the final product. If the press is not hot enough the colours will not be as vivid and they will appear faded. If the press is too hot for the material, the final product will be brownish and somehow pixelated.
As every material has its own temperature toleration, it is important to have expert designers and printing specialists to make sure your garments come out perfectly and meet all your expectations.