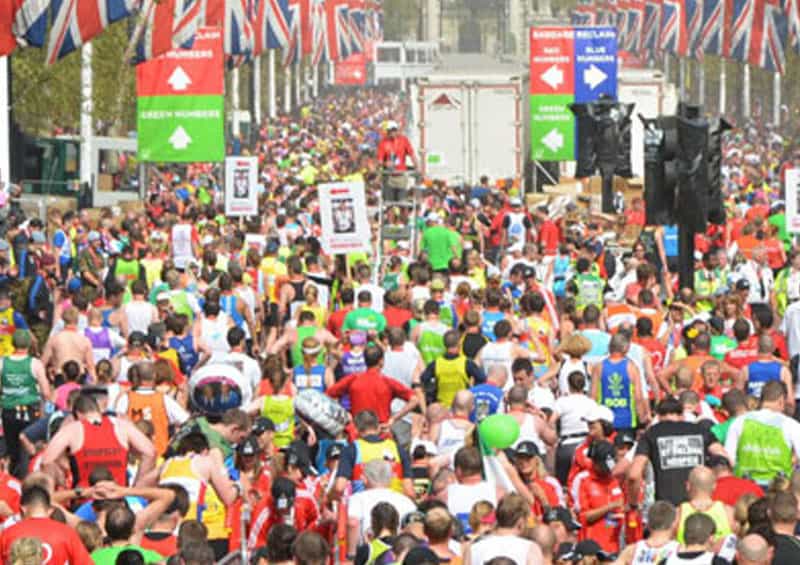 Mass participation events and your image
People are more concerned about living a healthy life than ever before. This trend has been on the rise for decades now and does not seem to be faltering any time soon.
The most popular events are those where hundreds or thousands of people participate. Every year more people sign up to get involved in events that promote fitness or support great causes through sports.
It seems people are drawn in because of the social element. They are more likely to participate in events as a group or at least with one other person. Mass participation events draw people of almost all ages and walks of life, not only professional athletes. It offers many different incentives for all kinds of people. Competitive individuals would want to stablish marks, others just want to be part of a great cause, and most would be happy by knowing they are doing something to improve their health. One other thing that adds to the experience is the festive atmosphere that accompanies mass participation events. They have become very colourful and exciting, and people even enjoy watching and taking pictures in them.
These events then offer a very different perspective for public in general. They not only attend and observe passively, like in the majority of sports events where the majority of attendants just sit and watch. Mass participation events are made to get the people actively involved.
It is not strange then that companies, corporations, clubs and even communities, have become interested in promoting their image in these events. The sense of camaraderie is reinforced when people can see that they have something in common. That´s why it is important to design good shirts, jackets, running suits, staff apparel, and support wear that visibly conveys the message a corporation or foundation is trying to get across. Moreover, everyone in these events is looking to be part of something greater, and this can only be done by making sure all the colours, designs and patterns look the same in every outfit.
This is of great importance, and Platform Sports specializes in customizing uniforms and support wear for team members, club members, participants and staff for any mass participation event. We also guarantee that your colours and design will last, so your staff will be able to wear your colours and designs the weeks and days prior to the event while they´re looking for sponsors or media, promoting your brand and cause.
Whether you want to stablish a bond with your community by promoting a healthy life, or you want to raise funds for a great cause, you need to make sure people identify with your event and also can keep a memento of it. People love it when they really feel involved and emotionally engaged, you can be sure they will sign up again for any events you organize in the future just to repeat the experience.
Our great quality materials and dyeing techniques, will ensure maximum durability and colour fastness. Visit our site to find out about our mass participation apparel.